Why Migrate Your Brick and Mortar Store to Shopify
The post is all about the idea, benefits, and importance of migrating your brick-and-mortar store to Shopify.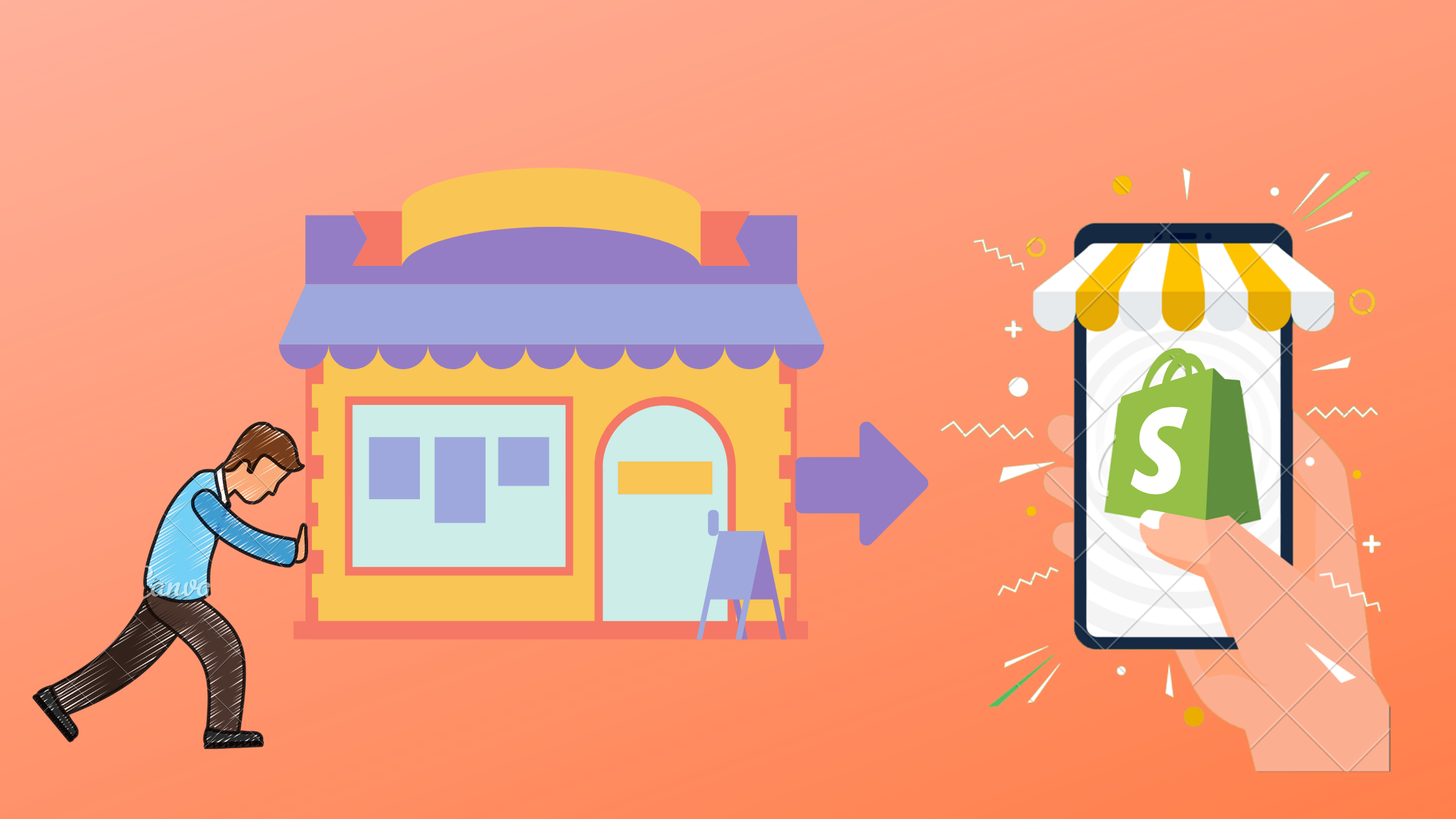 Did you know that the Covid19 outbreak has actually worked in favor of online retailers over the past couple of years? With very few shoppers showing up at brick-and-mortar stores, there was plenty of space for all the online customers. This is why a huge number of physical business store owners preferred to migrate to Shopify.
During this pandemic period, most business owners looking for business opportunities offline were worried that very few customers will turn up to their fancy offline stores after the Covid19 outbreak that turned most people to online shopping.
Looking at the huge losses that were caused to most offline shop owners during the lockdown and the time post-pandemic, new entrepreneurs around the world are now getting more skeptical and discouraged to set up and invest in offline stores.
The post-pandemic effect has led many businesses to fear that they might have to shut down their hugely invested physical shop for good. So, if you are someone who is also worried about the fate of all offline stores, then there is a way you can save your business and make a steady profit simply by migrating your brick & mortar store to the best online e-commerce platform, Shopify.
Still not convinced? Then hold tight, because today, I will give you not one or two, but ten reasons why taking your brick-and-mortar shop to Shopify can be the best decision of your life.
Having said that, it is also true that a brick-and-mortar store is an excellent way to bring your products directly to the customer. However, it isn't easy to maintain either, as it requires a lot of effort and work to set it up and run. In this regard, business owners find the option to migrate to Shopify or any other e-commerce platform much easier.
Why Brick and Mortar Store Owners Should Migrate to Shopify
When you have a physical store to maintain, you have to perform a number of manual & complex managerial operations yourself. Not to mention the high start-up cost and constant need of hiring in-store employees with extra bills of the shop hovering over your head all the time. Moreover, in case you don't realize, trying to design a fancy store can cost a lot of money as well.
With the current economy and the rise of virtual shopping, it can be pretty difficult to maintain a physical storefront and run it successfully. And post Covid19, the business condition in a physical store hasn't been the same as before anymore. More than anything else, consumers have become more habituated to online shopping, so more and more business owners are deciding to move their business online. This is just one of the many reasons to migrate your business to Shopify.
For most of you who doesn't know, online businesses have lower overhead cost, as they don't have to worry about rent and inventory like physical stores do. They can also use social media to grow their brand in ways that are much more difficult with brick-and-mortar stores.
But why Shopify? Well, the answer is simple, Shopify is a platform that allows you to create your own online store in minutes. It offers many features that you would find in a traditional storefront, such as marketing tools, inventory management, customer service, and more. More importantly, it comes at very affordable prices, and there is no risk of losing any money if you decide to stop using it at any time.
So, now you know why shifting your offline store to a full-fledged online e-commerce platform like Shopify would be more viable and profitable for you.
How Does Migrating To Shopify Boost Your Offline Business
Do you need more reasons? Here are the ten most justified ones to tell you why migrating your brick-and-mortar store to Shopify is the best way to boost your existing offline business.
Super Scalable
With Shopify, you get a highly scalable platform to maintain e-commerce businesses of all sizes. The flexibility in Shopify's plan enables its users to get started with the features and plans that suit them at the time and scale up gradually as the business grows bigger later on.
Totally Secured Platform
It ensures top-notch security in terms of keeping the personal and financial information of clients safe and secured. It checks for regular updates to its security system, server, maintenance, etc.
Huge Community of Experts
It has a large & helpful community of multi-disciplinary experts who are always ready answer to your queries or help in case you get stuck on anything.
Advanced Features
It offers a set of essential and cutting-edge features that can never be found in a traditional retail model.
Hassle-free Store Customization
Comes with an easy drag & drop store design & customization tool with its theme editor. Do any type of store customization quicker prior to any flash sale or promotional campaigns like Cyber Monday, Black Friday, Christmas, etc.
Ensures Global Market Reach
Not just in the local area, get exposure to the global marketplace and audience. Reach & expand your business worldwide.
Customized Mobile Apps
Get your store in the palm of your hand with its support for advanced mobile apps.
Never Run Out of Additional Features
Enhance, grow & manage your e-commerce store with additional features and functionalities utilizing thousands of Apps available in the Shopify App Store.
Robust Customer Support
Shopify has a world-class & active customer support team to serve its valued clients, who are available in live chat, email, and phone 24/7, 365 days a year.
Convenient Payment Methods
Shopify integrates payment processing with its software using a third-party provider such as Authorize.Net or eWAY. Shoppers can make purchases using either a credit card or debit card, as well as Apple Pay, Android Pay, and PayPal. Customers also can use their PayPal account to pay for purchases made through Shopify's mobile apps on iOS (including the Apple Watch) and Android devices.
Boost Your Business by Migrating Your Brick and Mortar Store to Shopify
Hope these reasons were enough to trigger your senses to realize how advantageous it would be to move your brick & mortar store to an online business with Shopify. Having said all that in favor of migrating to Shopify, it doesn't necessarily mean I am suggesting that the offline marketplace is dead and no one should promote it anymore.
The physical or offline shops are still very popular among shoppers and have great potential to grab the attention of all types of customers. Still, it's just that when you take advantage of an online e-commerce platform like Shopify, you get to reach larger audiences nation/worldwide, making the opportunity to maximize the revenues of your existing business.
So what are you waiting for? Migrate your brick-and-mortar shop to Shopify and take your offline business to the next level today!
Wondering how you could move your offline shop to online with Shopify? Here is a detailed guide to help you through the process.
For any queries or suggestions comment below. Visit my website ☞ Tarun Sikder to read my latest blogs.